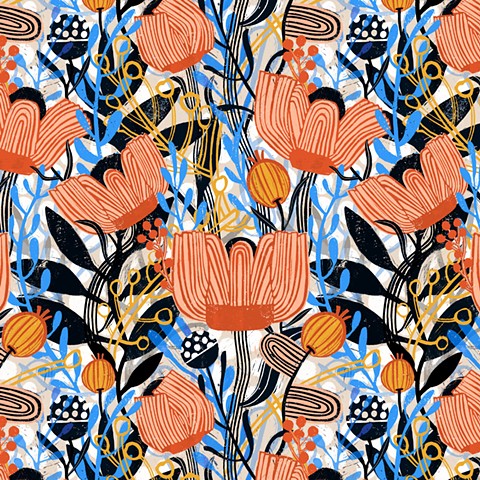 Hello! Welcome to my website!
A bit about me:
I was born and raised in the bayou country of South Louisiana. After landing in Iowa for graduate school, I fell in love with the landscape, the sense of community, and the people. I've lived in Tennessee, Florida, and Louisiana. I currently live in Iowa, where I am an Assistant Professor of Art at Kirkwood Community College.
My designs are created for surface design, home decor, editorial illustration, and children's literature. I find it essential to keep my work grounded in hands-on methods of creating. Drawing, painting, paper-cutting, or printmaking are usually a part of my process. Most designs are finished digitally, using it as an opportunity to fine tune compositions and color.
Outside of the studio, I love gardening, biking, sewing, and will hop on any opportunity to play outdoors with family and friends (even in the winter.) If you were to drop in on me in the studio, you would likely find me sipping a strong iced coffee and listening to the an audiobook.
If you're interested in licensing any of my designs or have any questions, feel free to contact me at gsonge@gmail.com
Thanks for stopping in!
All images © Greta Songe, 2023