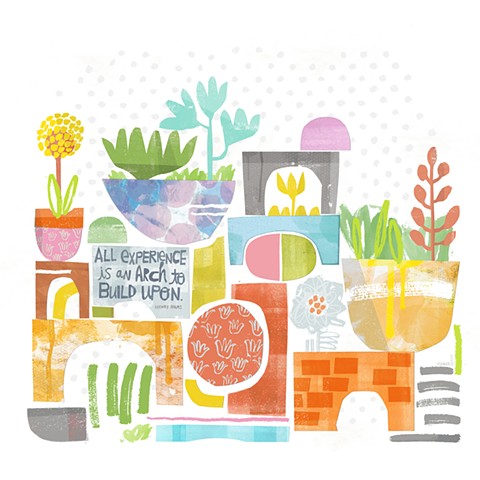 I was born and raised in the bayou country of South Louisiana. After landing in Iowa for graduate school, I fell in love with the landscape, the sense of community, and the people. I currently live in Iowa with my husband and son.
I create artwork for surface design, home decor, editorial illustration, and children's literature. My artwork is influenced by my experience as a printmaker and my love of texture and pattern. While I enjoy the flexibility inherent to digital processes, for me, it is essential to stay grounded in traditional studio practice and hands-on creating. Designs typically begin in the realm of drawing, painting, paper-cutting, or printmaking. Most designs are finished digitally, using it as an opportunity to fine tune compositions and color.
Outside of the studio, I love to garden, ride my bike, run, and do anything outdoors with family and friends. If you were to drop in on me in the studio, you would likely find me sipping a strong iced coffee and listening to the latest episode of one of my favorite podcasts.
Take a little time to browse around my portfolio and drop me a line if you have any questions or just want to say hello!
If you're interested in licensing any of my designs or have any questions, feel free to contact me at gsonge@gmail.com
Thanks for stopping in!
All images © Greta Songe, 2018
My father had a favorite quote. I love it too.